Do you want FAST Weight+loss or LASTING Weight+loss?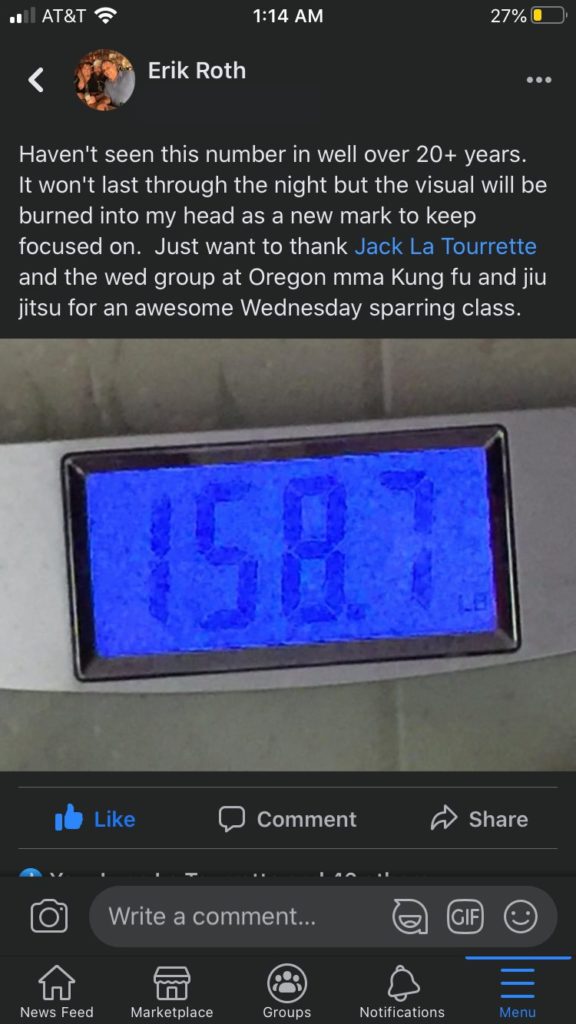 Most people would chose they want Long-Term-Lasting or (LTL) Weight Loss.
So here's the secret.
Simple is Sexy. Do NOT over complicate it.
I've helped hundreds of people lose weight… The big secret is whatever you do, it must be maintainable.
There are millions of ways to lose weight. Which is why all weight+loss programs work for a little bit then they fail.
( I know this failure by personal experience)… and then I finally found one that was Easily sustainable which is the secret.
Whatever you do, it must be sustainable.
Working out 7 days a week is NOT sustainable for me.
However l got this cool reminder on my Fb from an old friend/student Erik… He only worked out 2 times a week. (Yes 2 days a week) That is EASILY sustainable.
The secret for Erik, is he hung out in a dojo environment where he sparred which was (fun) he sweated while he was having fun.
He literally only worked out 2 times a week at the dojo and that was it…
After that he joined me 1 day a week in chest work out and went from dumb-bell pressing 45lbs in each arm a total of 90lbs to… to do 90lbs in each arm a total of 180lbs by the end of the year. Literally doubled his strength and loss his fat. He looked like a damn viking.
By the way all the results he got for FREE. The Fat loss was FREE, The strength Gain was FREE. He joined the dojo for Self-Defense and to become flexible and he accidentally got strong and lost weight while having fun. (Oh yah, he also got his flexibility better… he went from a crippled YOUNG man that drove truck, to being able to literally head kick dudes in sparring)
The key part of this entire post is "Sustainable FUN"…
One more example to lock this in…
Whats your favorite show?
I love Dexter, Breaking Bad, even Game of Thrones… Maybe you do to? Well, how much will power would it take for you to watch your favorite show? NONE… Right?
You just enjoy your favorite show because its fun so simply look forward to it… THATS EXACTLY what your workout should feel like.. And that's exactly what I guarantee it will feel like.. So much Damn fun, you'll be having a blast or your money back Guaranteed.
Now normally I would say if your interested in training and surrounding yourself with an awesome group of people I'd highly recommend you do what Erik did and take our 100% Risk Free Trial.
Yet …right now I am about 100% at Capacity.
I do have a waiting list… "If your interested in getting personal 1-on-1 instruction, that fit your needs, on your schedule and get you the result you want while having fun, making friends, learning cool stuff I highly recommend you call us at 541-608-2848.
plus I have a CRAZY guarantee.
Its Called "I love Strangling my New Friends"…
….Basically "if by the end of your trial, you don't have so much fun strangling and Jitsu-ing your new friends, learning cool new skills, getting a gnarly workout and laughing while you do it, Ill 100% refund your money even after investing 3 days of my life into you…. if you aint' happy, I ain't happy. And I will only keep your money if your happy"
Sounds pretty damn fair to me go ahead and call 541-608-2848 to be put on the wait list."