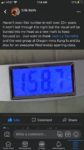 Do you want FAST Weight+loss or LASTING Weight+loss?
Most people would chose they want Long-Term-Lasting or (LTL) Weight Loss.
So here's the secret.
Simple is Sexy. Do NOT over complicate it.
I've helped hundreds of people lose weight… The big secret is whatever you do, it must be maintainable.
There are millions . . . → Read More: Review From Erik: I Haven't been at this weight for over 20+ years!