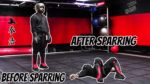 Sulag Before Sparring & After… 🙂
I am an adrenaline junky.
I love Rock climbing.
I Love White Water Kayaking.
I love 4×4 in my CJ-8 Jeep.
I love Riding my motorcycle..
But nothing comes close to Sparring.
(Technically its not "sparring" it's more like simulating the deaths of your best friends, but . . . → Read More: I am an adrenaline Junky.